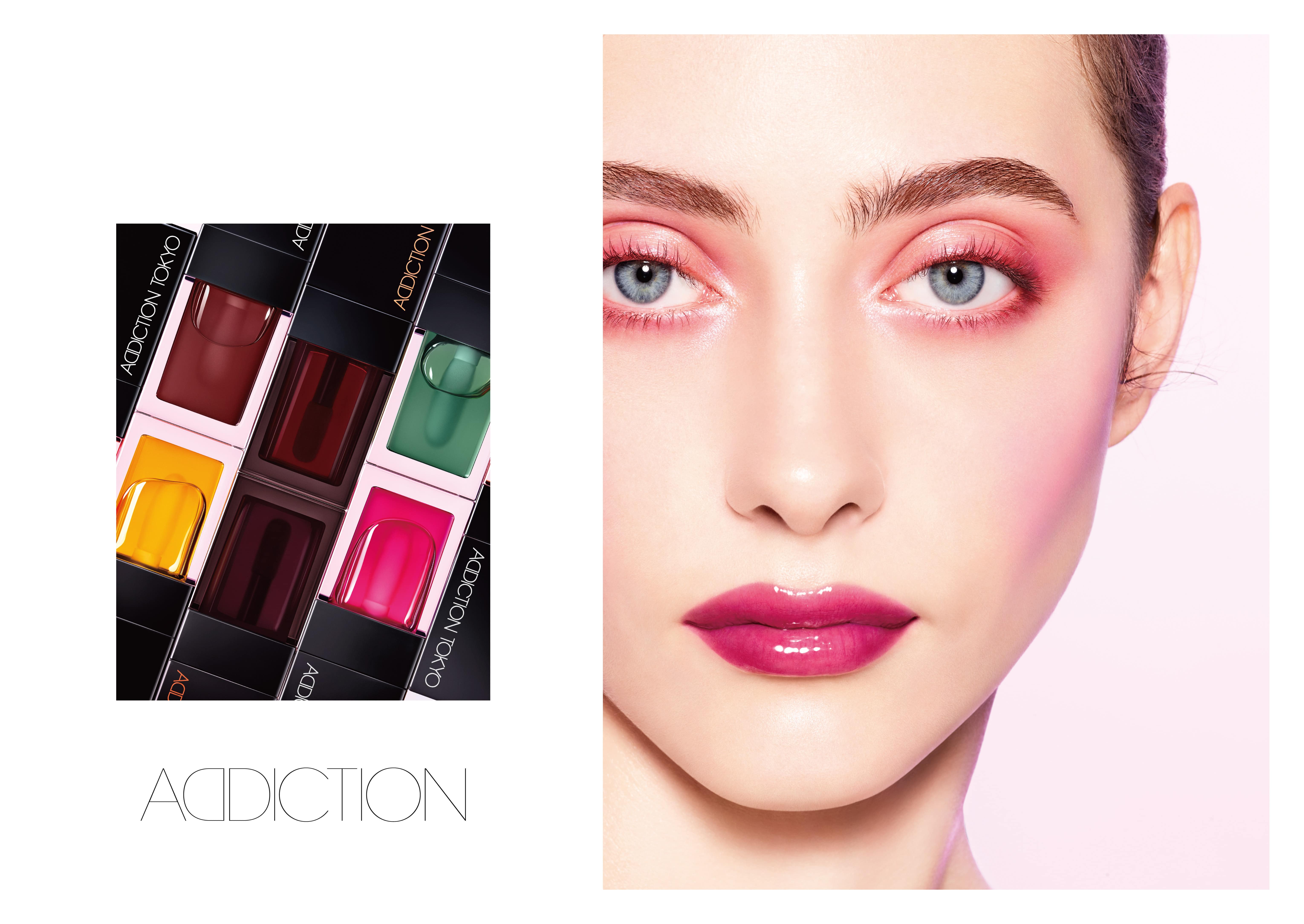 THE MORNING DEW
On a quiet morning, imagine walking through a magical garden, where the fresh morning dew glistens on the flowers in full bloom. 
 Your cheeks and lips flush faintly in the crisp, cool air. 
 
For this spring, ADDICTION took its inspiration from the morning dew. 
You'll discover dreamy beauty, with plumped, sensuous lips reminiscent of a quivering water drop; cheeks that flush with color naturally in the crisp morning air; and eyes with exquisite colors like a multitude of flowers. 
 
Because no matter how complicated reality is, when you're in the midst of a dreamlike moment, you can bring back your true self. 
This spring, once again... Prepare to awaken your authentic self.
LINE-UP
link-up-product__node-1297
LIP OIL PLUMPER
Like the fresh morning dew glistening on flowers, our lip oil delivers translucent, plumped lips and excellent conditioning effects. 
In colors with a naturally sheer look, it can be used as treatment care but also as lip gloss or lip primer.
On Sale Friday, January 8, 2021
ADDICTION LIP OIL PLUMPER, 9 colors, HKD210
[ Product Features ]
■ Contains Treatment Plump Oil*
A thick coat of oil adheres snugly, plumping lips for a pout that's voluptuous like the morning dew. 
It seals moisture in, creating a look where vertical lines are of no concern.
*Polybutene
■ With sheer coloring, it gives a faintly ruddy look.
It comes in exquisite shades you can layer with other lipstick.
■ A plant-derived essence helps retain moisture.
Cosmetic ingredients including organic plant-derived ingredients supply plenty of moisture, preventing chapping caused by dryness.
■ Plumping applicator ensures that plenty goes on in a single coat.
■ Fragrance of juniper berry and geranium rose essential oils.
[ Cosmetic Ingredients ]
■ 8 types of organic plant-derived ingredients (emollients)
Olive oil, jojoba oil, safflower oil, sesame oil, manuka honey, shea butter, murumuru butter, cacao butter
■ Rose hip oil, squalane (emollients)
[ How to Use ]
■ Apply desired amount to lips with the plumping applicator.
link-up-product__node-1298
CHEEK TINT
It tints with "water." It nurtures with "water." 
This watery cheek tint keeps a natural-looking ruddy tint in place for hours on end. 
It blends naturally into the skin, with no sticky feeling, imbuing it with a fresh, healthy look.
On Sale Friday, January 8, 2021 ADDICTION CHEEK TINT:
5 colors, HKD195
[ Product Features ]
■ Fresh tint color keeps beautiful color in place for hours on end.
Thanks to ingredients that adhere easily to the skin, it creates a finish that stays put even when you wear a mask.
■ Clear, luminous color.
The fresh color looks like a natural flush brought on by the crisp morning air.
■ Watery tint formula blends nicely into the skin.
Its natural finish looks like your skin's natural color just improved. With a great affinity for the skin, it seeps in, supplying moisturizing ingredients that prevent dryness.
■ Arrange the color as you like.
Apply one coat for a natural look, or layer it on for more solid color, to achieve the finish that suits your tastes.
[ Cosmetic Ingredients ]
■ Rose extract: Rose water, Chamomile extract, Polyol, BG (moisturizers)
[ How to Use ]
■ Apply desired amount to cheek with the applicator.
MAKE-UP TIPS
►When applied over primer
Even when you apply foundation or concealer on top of it, it resists caking and imbues skin with a natural-looking ruddy tint.
►When applied over powder
It gives skin a blurred texture.
►When layered with cheek color in a different texture
Use CHEEK TINT first for better results.
ADDICTION CHEEK CHART
With a rich array of colors and textures to choose from, you're sure to find a cheek color you like for every situation and mood.
link-up-product__node-1299
THE EYESHADOW
Eight shades reminiscent of flowers in full bloom and fruits growing in a garden in the early morning make their debut as limited-edition spring colors.
Limited Quantity Release: Friday, January 8, 2021
Addiction The Eyeshadow: 8 limited edition colors, HKD140
GET THE LOOK
Click the image to enlarge